Tokyo may be known for its lively cosmopolitan vibes, but venture to the capital's outskirts and you'll see another side of the city, one that's rich in unspoiled nature and humbling spiritual experiences.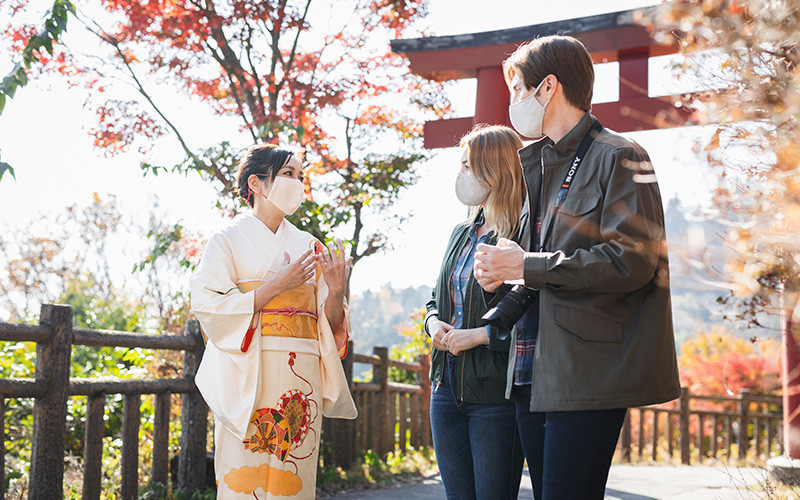 Tokyo is one of the most exciting cities in the world, a place where generations of tradition and visions of the future playfully come together and the shopping, dining, nightlife and museums are unparalleled. Perhaps surprisingly though, the city also offers ample opportunities to recharge in uniquely beautiful natural settings, some that few Japanese people even know about. With majestic, sacred mountains to the north and subtropical islands to the south — accessible on day and overnight trips from Tokyo — there's always something more to be discovered, whether you're a returning visitor or have never stepped foot in Japan's capital city.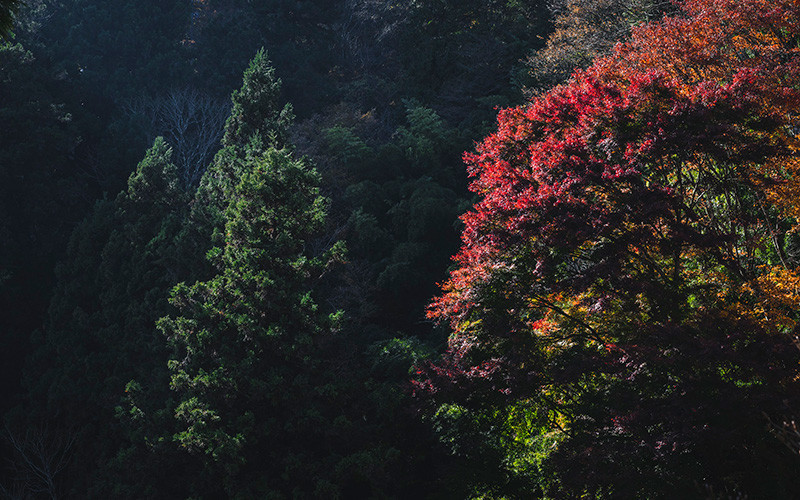 Tokyo's Hidden Mountain Hamlet
In the most western reaches of Tokyo, less than two hours by car from the city center, you'll find the Tama region, an area of unspoiled rugged terrain that couldn't be more different from the skyscrapers and bustling streets of central Tokyo. Venture here to hike, camp, relax in natural hot springs, take an English-language sake brewery tour and tasting, and enjoy a variety of water sports on one of Tama's lakes or namesake river. You can also step back in time with a visit to a beautiful old-world hamlet.
Perched atop the 3048 feet of Mount Mitake, the tiny hamlet of Mitake, which has a population of around 130 people, is a must-see destination for visitors to the Tama region. You can get there by hiking up Mount Mitake directly from the train station, or ascending the mountain by cable car. Either will yield epic views of metropolitan Tokyo.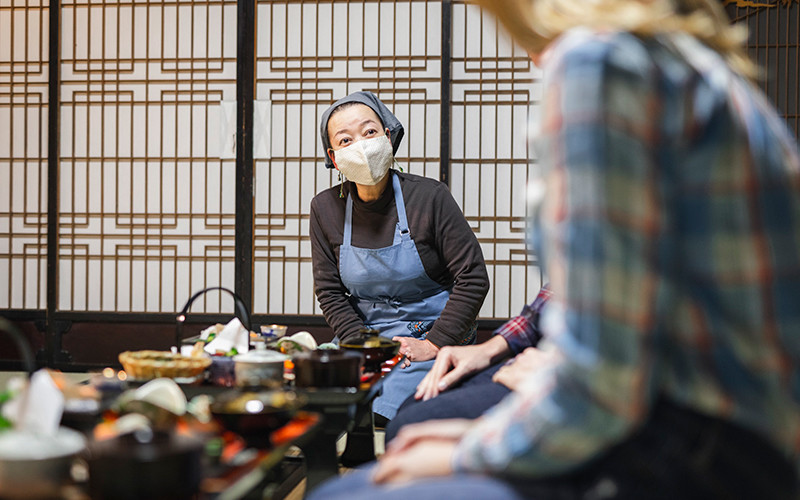 Mount Mitake has long been worshipped as a sacred mountain. At the summit is Musashi Mitake Shrine, a Shinto Shrine said to have been founded 2000 years ago. The sacred site is taken care of by 23 priest families who live in the village. More than just a destination for day-trippers, Mount Mitake is dotted with overnight shrine lodgings, known as shukubo. These lodgings — all of which strictly follow safety, hygiene and social distancing protocols to prevent COVID-19 infections — offer visitors, practitioners and non-practitioners alike, the opportunity to enjoy local, seasonal cuisine and interact with the priests and their families in a serene, spiritual setting. Historically, shukubo were created to provide visiting pilgrims with overnight accommodations, a custom that began around 1,200 years ago. Higashibaba, owned by the descendants of one of the four generals of the famous samurai warrior is one of the 23 Shinto priest lodgings, and a shukubo like no other. Built in 1866, this Baba family house has been deemed a Tangible Cultural Property of Tokyo and features an iconic thatched roof with a grand entranceway, delicate sliding screen doors and windows, and beautiful details throughout.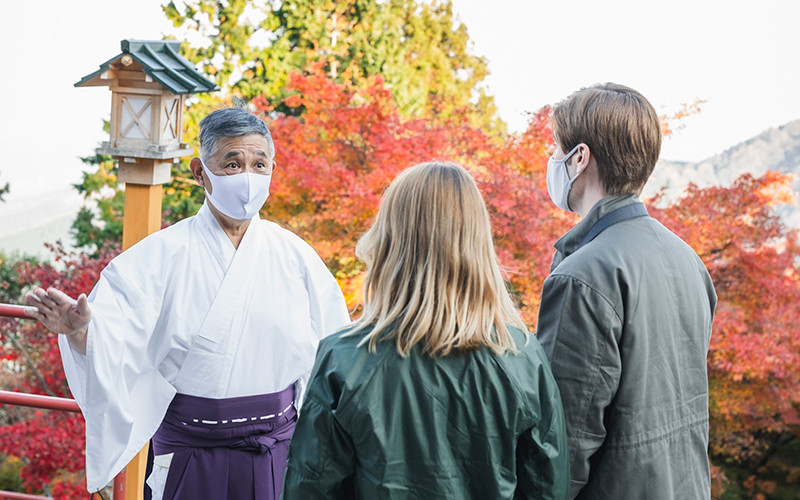 Encounters with the charming people of Mitake — where one-third of the population is Shinto priests — can truly enrich your stay. At a shukubo, for instance, you can make special arrangements with a local travel company for a shukubo proprietress to introduce you to the area upon your arrival at Mitake Cablecar Station. They'll guide you through the history of the shrine and the treasure hall that maintains and exhibits historic items donated by worshippers, some of which have been designated national treasures. The shrine is also known for its unique wolf statues, making it a popular destination for dog owners from Japan and around the world.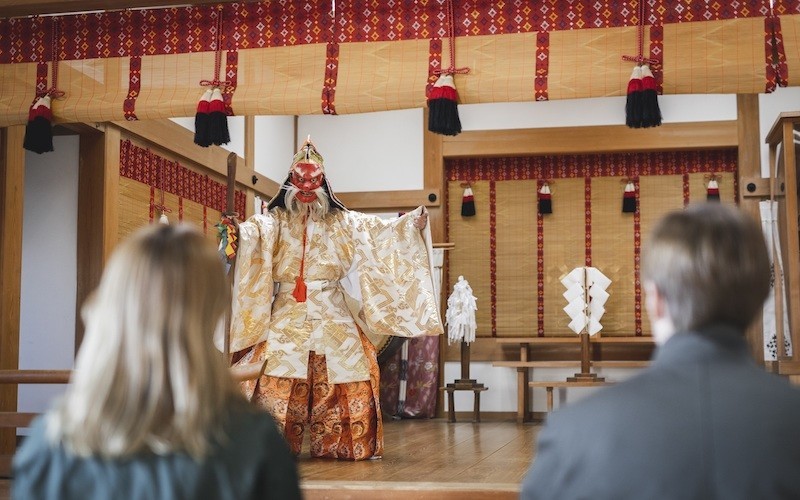 Your shukubo may also be able to arrange a Kagura, a special, and rare, ritual dance. Usually performed by Shinto priests, Kagura is considered the most prestigious method of worship. Whether you wish for safe travels home or success in future endeavors, your prayer can be offered to the gods through this traditional performance.
The area is also well known for Takigyo — the Shinto practice of standing directly under a waterfall in meditation. Seizanso is one of the few shukubos that will guide you through the practice, an experience offered exclusively to guests. Your Takigyo experience begins with an easy hike to Ayahiro-no-taki, a waterfall that is regarded as a spiritual place and marked with a torii gate. The water is quite cold even during the summer, so a series of Shinto chants and motions take place beforehand to help you warm up before the sudden pressure from the cold water overwhelms your body, clears your mind, and leaves you with a sense of calm so memorable that you'll want to return for the experience again and again.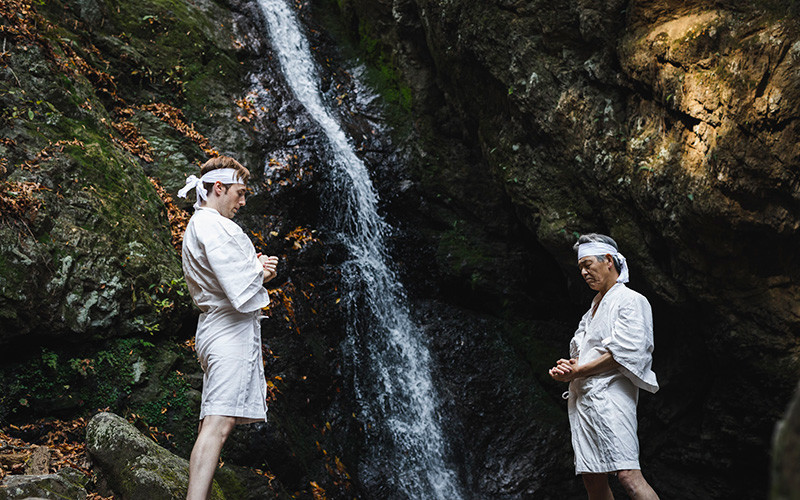 Mount Mitake sits on the east end of the Chichibu-Tama-Kai National Park, which is an ideal destination for an easy hike. Here, you will find beautiful foliage in the fall, wild cherry blossoms in the spring, and Japanese renge-shoma flowers that bloom in late summer. You may get a glimpse of wild birds, deer, or musasabi (giant flying squirrels) if you are lucky. For a deeper understanding of the culture and history of the mountain, consider contracting a seasoned nature guide.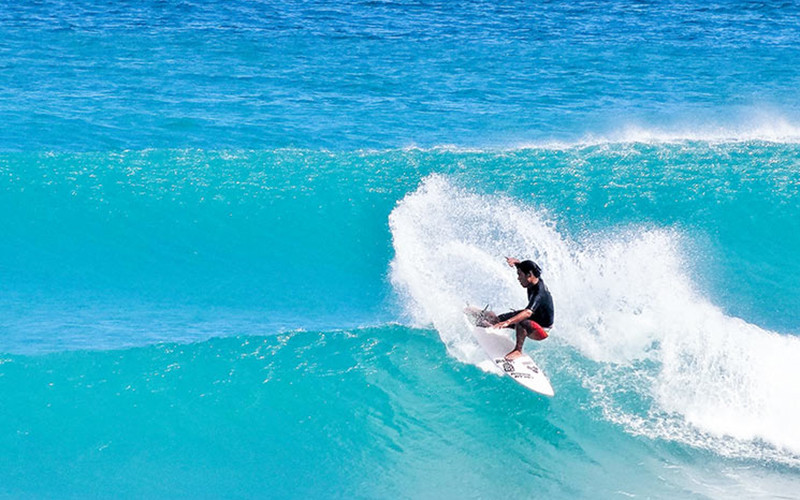 The Izu Island Chain: Surfing, stone statues, and sunset onsen on Niijima
Mount Mitake is the perfect addition to a Tokyo holiday, allowing you to experience serene nature in a traditional, spiritually soothing Japanese setting, while still leaving plenty of time to enjoy all the city has to offer. But it's not the only option. Tokyo also has a string of remote, surprisingly accessible, volcanic islands with epic white-sand beaches, clear emerald waters, rugged mountains, subtropical jungles, and even a few coffee plantations.
Closest to the mainland are the dozen small islands of the Izu Island chain off the Izu Peninsula. A number of Tokyo's Izu Islands are easily accessible from the Japanese capital, and chief among them is Niijima. Dubbed "Tokyo's Surf Island," Niijima is paradise for surfing lovers, with at least ten surf spots with varying swell and wind directions. A 40-minute flight from Chofu airport, you can easily spend a day exploring the island before returning to the heart of Tokyo.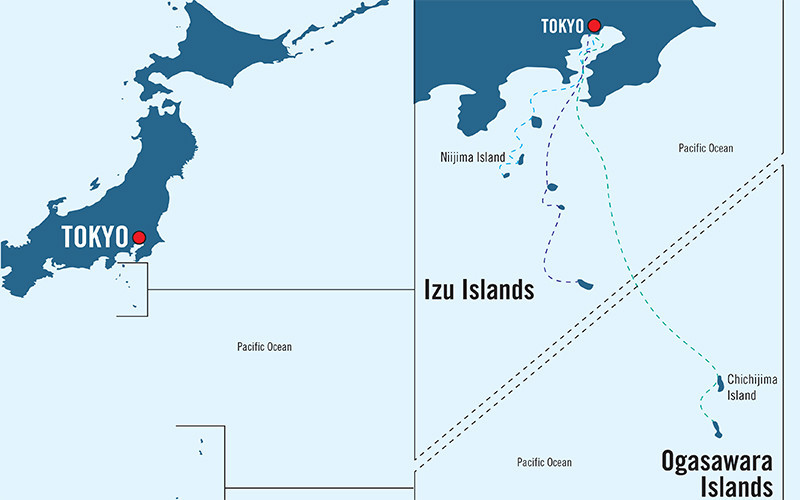 Upon arrival, switch from city to island mode by renting a bicycle to explore Niijima on two wheels. Picturesque Habushira Beach on the east coast is famed for its sparkling surf, white sand, and churning waves. If you're a nature-lover and are tempted to stay overnight, a free (and very scenic) campsite, with excellent facilities is nearby.
The island is not just about beaches; it's also rich in archeological history thanks to several million years of volcanic activity. Niijima is thought to have been inhabited since prehistoric times, as evidenced by excavated stone and ceramic utensils dating as far back as the Jomon period (14,000-300 BCE).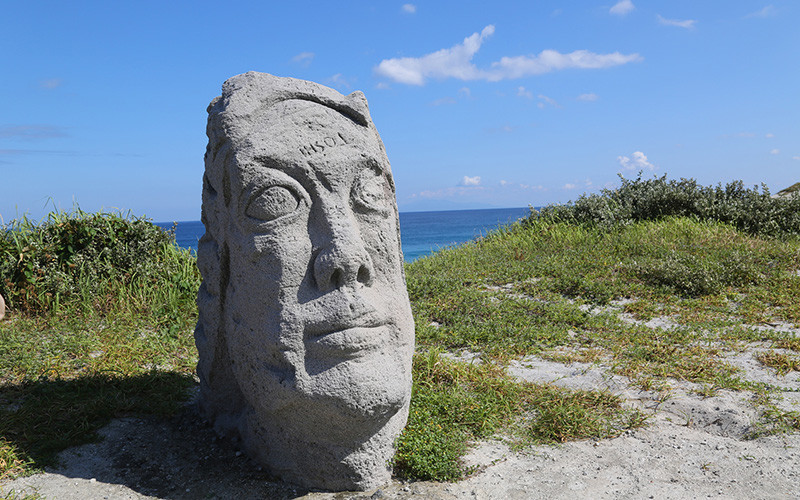 Volcanic activity can be seen at Moyai Hill, which overlooks Yunohama and Maehama beaches and is home to 100-plus moyai statues made from local volcanic Koga stone. They're something of a symbol of Niijima; many are scattered throughout the island. There are also many hot spring onsen overlooking the ocean, such as Yunohama, whose open-air pools are surrounded by volcanic stone structures inspired by ancient Greek architecture. You certainly won't find anything like it in Tokyo's city center.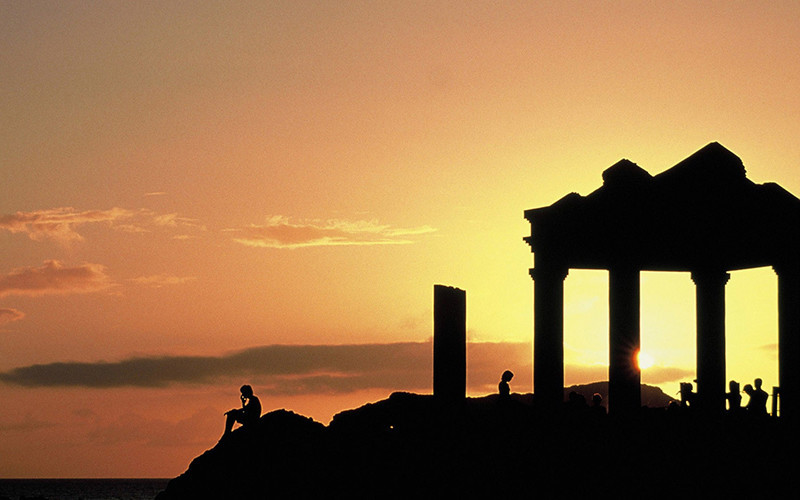 The island's volcanic activity also lends itself to a unique craft heritage, particularly glassware. Niijima's volcanic sand famously transforms into an olive-green glass, a distinct shade that's only possible to create here and Lipari island, Italy. Stop by Niijima Glass Art Center, which in addition to housing a collection of glassworks by contemporary artists, offers the opportunity to try your hand at glassblowing — a special souvenir, indeed.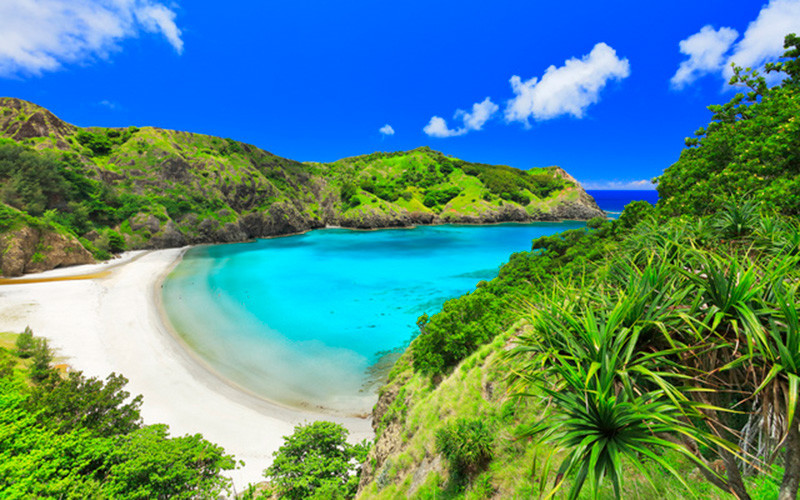 The Ogasawara Islands: Nature, Night Skies, and Coffee Beans on Chichijima
For even more island adventures within reach of Tokyo, look to the Ogasawara islands, a subtropical archipelago south of Tokyo city with year-round sunshine and an ecosystem so unique the region is dubbed the Galapagos of Asia. Getting to them requires a 24-hour ferry: an adventure in itself.
There are many ways to explore the pristine natural wonders which led to the islands' designation as a UNESCO World Heritage Site — and a good starting point is Chichijima. One of only two inhabited Ogasawara islands, Chichijima is marked by subtropical forests, rugged cliffs, and sandy beaches. Pay a visit to Kominato Beach, an idyllic expanse of white beach and crystal clear waters perfect for snorkeling and swimming. During the summer, look out for sea turtles laying eggs. To see even more wildlife, consider a boat tour.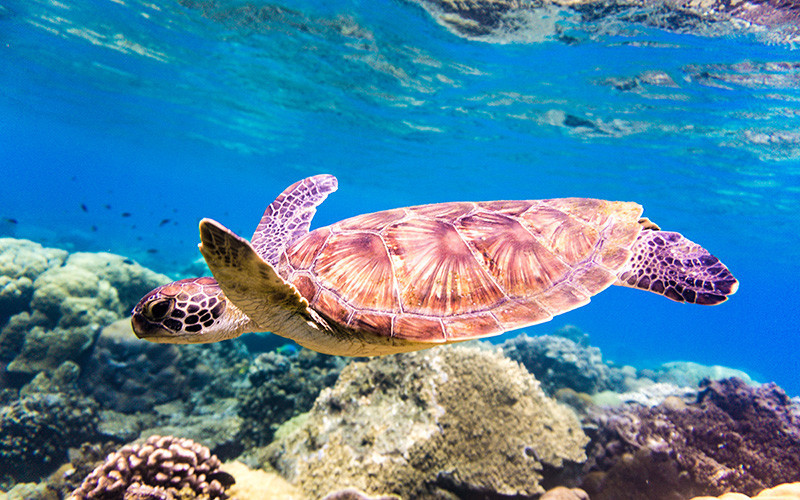 As many as 24 of the world's 85 species of dolphins and whales have been spotted in Ogasawara waters. If you're there in winter, look out for baby whales; in early spring, you might see humpback and sperm whales. Sustainable tourism is critically important to Chichijima. Boat tours are unable to come within 100 metres of whales while many treks must be undertaken with official guides.
That attention to ecotourism also makes Chichijima a fantastic spot for divers; countless dive spots offer glimpses of large migratory fish, bright coral reefs, and — a legacy of the region's Second World War battles — underwater shipwrecks.
The tiny island is also one of the few places where coffee beans can be grown in Japan, thanks to its subtropical climate. Family-run Nose's Farm, the oldest coffee farm in Japan, for example, is a lush hillside coffee plantation created by some of the island's earliest Japanese settlers in the 19th century. After all of the Japanese residents left the island during World War II, the 4th generation of the Nose family came back to the island in 1973. They decided to reopen the coffee farm after finding coffee trees that their ancestors planted back in the 19th century in the middle of the desolated land after the war. This is when Ogasawara coffee reborn. If you're a coffee lover, join a farm tour that offers the rare opportunity to handpick your own coffee beans, peel, and hand-roast them – and then drink a self-produced cup of coffee. Tours consist of up to six people. Only visitors taking the tour can drink and purchase the coffee.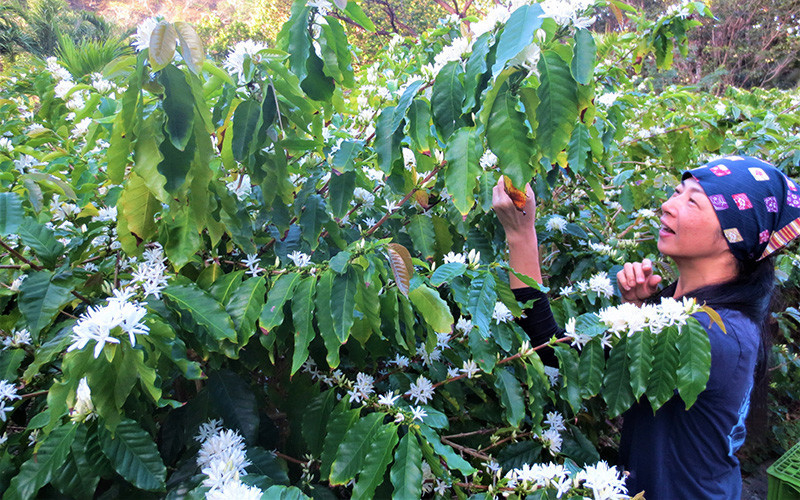 The coffee theme continues at USK — a café surrounded by nature near Kominato Beach — where its own chemical and pesticide-free coffee is available alongside a delicious butter, made from the nuts of Chichijima's giant tropical momotamana trees.
You might not feel like you're in the city center, but Tokyo's acclaimed design DNA appears on Chichijima in the form of Pat Inn, a modernist hotel with a clean-lined concrete façade, minimalist interiors, white walls and natural woods, designed by Kichi Architectural Design. The hotel's heritage is as historical as its design is contemporary: it's owned by Ken Sebori, whose 6th generation American forefather became one of the first people to live in Ogasawara in 1830 (the hotel sits where he apparently built the island's first man-made structure).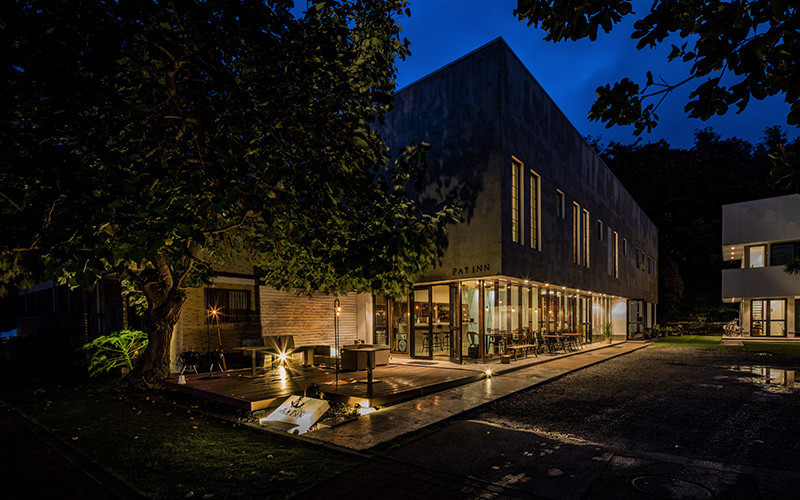 If you decide to stay here, be sure sign up for the hotel's night tours, soaking up not only the famous star-filled skies (the Milky Way can often be seen) but also its lively nocturnal landscape, from Bonin Flying Foxes to glow-in-the-dark Green Pepe mushrooms — some of the many rare island sights that aren't often spotted in Japan. The night sky in Ogasawara is said to be the best in Japan with no artificial lights over a 600 miles radius.
Travel might be complicated right now, but it's never too soon to start dreaming of your next big trip. No matter if you're a first time visitor or have been to Tokyo ten times, be sure to seek out all the different sides of this multifaceted destination. Tokyo is so much more than a glittering modern metropolis — bucolic nature and transformative spiritual experiences abound, and when you're ready to visit, you're sure to be greeted with one-of-a-kind omotenashi hospitality upon arrival.
©TCVB, © Kohei Hara
For more information, please visit here.